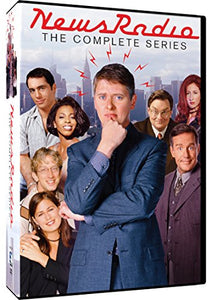 WNYX is on the air...
All Five Seasons On 9 Discs!
NewsRadio is the beloved and hilarious, Emmy-winning comedy series featuring one of the most talented ensemble casts ever gathered. Enjoy all 97 episodes from 5 seasons on this hilarious 9-disc collection.
WNYX is the #2 news radio station in New York City and the wacky anchors, management and behind-the-scenes crew are going to make sure it stays that way. The stellar cast includes Dave Foley (The Kids in the Hall), Stephen Root (Office Space), Andy Dick, Maura Tierney (ER), Vicki Lewis, Joe Rogan (Fear Factor), Khandi Alexander (CSI: Miami) and Phil Hartman. SNL funnyman Jon Lovitz joined the show for the final season. Packed with A-list guest stars and unforgettable moments, here are all the zany antics, office politics, romances, breakdowns and outbursts you remember!
Starring: Dave Foley, Stephen Root, Andy Dick, Maura Tierney, Vicki Lewis, Joe Rogan, Jon Lovitz and Phil Hartman
Guest Stars -

Janeane Garofalo
Chris Kattan
Dennis Miller
Judd Apatow
Ben Stiller
Jon Stewart
Jerry Seinfeld
French Stewart
Lauren Graham
John Ritter
Tone Loc
Patrick Warburton
Bebe Neuwirth
Anthrax
Jane Lynch
David Cross
George Hamilton
David Cross
Norm MacDonald
Bob Odenkirk
Al Roker
Scott Adams
Leelee Sobieski
Bob Costas
James Caan
Chuck D
David Clennon
George Lindsey
Michael McDonald
Sara Paxton
Paul Gleason
Ron Jeremy
Brian Posehn
Kevin McDonald
Katie Couric
Matt Lauer
Mary Lynn Rajskub
Judy Geeson
Robert Hegyes
Bryan Callen
Adam West
Tiffani Thiessen
From Executive Producers Brad Grey (The Sopranos) and Bernie Brillstein (Just Shoot Me!)
Contents:
Season One
Pilot
Inappropriate
Smoking
The Crisis
Big Day
Luncheon at the Waldorf
Sweeps Week
Season Two
No, This is Not Based Entirely on Julie's Life
Goofy Ball
Rat Funeral
The Breakup
The Shrink
Friends
Bill's Autobiography
Negotiation
The Cane
X-mas Story
Station Sale
>Bitch Session
In Through the Out Door
The Song Remains the Same
Zoso
Houses of the Holy
Physical Graffiti
Led Zeppelin
Presence
Coda
Led Zeppelin II
The Injury
Season Three
President
Review
Massage Chair
Arcade
Halloween
Awards Show
Daydream
Movie Star
Stocks
Christmas
The Trainer
Rap
Plus Minisode
Led Zeppelin Boxed Set
Complaint Box
Rose Bowl
Kids
Airport
Twins
Office Feud
Our Fiftieth Episode
Sleeping
The Real Deal
Mistake
Space
Season Four
Jumper
Planbee
The Public Domain
Super Karate Monkey Death Car
French Diplomacy
Pure Evil
Catherine Moves On
Stupid Holiday Charity Talent Show
The Secret of Management
Look Who's Talking
Chock
Who's the Boss? (1)
Who's the Boss? (2)
Security Door
Big Brother
Beep, Beep
Balloon
Copy Machine
Monster Rancher
4:20
Jackass Junior High
Sinking Ship
Season Five
Bill Moves On
Meet Max Louis
Lucky Burger
Noise
Flowers for Matthew
Jail
The Lam
Clash of the Titans
Boston
Spooky Rapping Crypt
Stinkbutt
Apartment
Towers
Hair
Assistant
Wino
Wedding
Ploy
Padded Suit
Freaky Friday
Retirement
New Hampshire