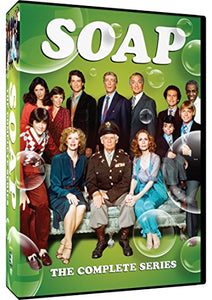 Two families that have relationships as complex as those in a Russian novel, but a lot more fun.
All 90 Episodes on 8 Discs!
This controversial sitcom defined the late '70s and was an instant classic! With its combination of implausible plots, exaggerated melodrama and a liberal dose of wackiness, this parody of TV soap operas was both popular and critically acclaimed, winning 4 Emmy® Awards and 17 nominations.
Surprises and shenanigans abound between the families of two sisters, Jessica Tate and Mary Campbell, where each family member is either crazy, involved in an incriminating secret, or both. The unparalleled cast features Katherine Helmond (TV's Who's the Boss?), Richard Mulligan (TV's Empty Nest), Robert Guillaume (TV's Benson), Cathryn Damon (TV's Webster), Robert Mandan (The Best Little Whorehouse in Texas), and Billy Crystal (When Harry Met Sally).
Starring:
Billy Crystal (Monsters, Inc.)
Katherine Helmond (TV's Who's the Boss?)
Robert Guillaume (TV's Benson)
Richard Mulligan (TV's Empty Nest)
Robert Urich (TV's Vega$)
Cathryn Damon (Webster)
Robert Mandan (The Best Little Whorehouse in Texas)
Jennifer Salt (TV's Nip/Tuck)
Diana Canova (TV s Throb)
Randee Heller (The Karate Kid)
Ted Wass (TV's Less Than Perfect)
Jimmy Baio (The Mirror Has Two Faces)
Jay Johnson (Reknowned Ventriloquist)
Guest Stars:
Sal Viscuso (Spaceballs)
Gordon Jump (TV's WKRP in Cincinnati)
Charles Lane (It's A Wonderful Life)
Doris Roberts (TV's Everybody Loves Raymond)
Inga Swenson (TV's Benson)
Howard Hessman (TV's Head Of The Class)
Dinah Manoff (TV's Empty Nest)
Sorrell Booke (TV's Dukes of Hazzard)
William Daniels (TV's Boy Meets World)
Harold Gould (The Sting)
Nita Talbot (Night Shift)
Michael Conrad (TV s Hill Street Blues)
G.W. Bailey (Police Academy)
John Byner (The Black Cauldron)
Robert Englund (A Nightmare on Elm Street)
Jack Gilford (Cocoon)
Donnelly Rhodes (Butch Cassidy and the Sundance Kid)
Candice Azzara (Catch Me If You Can)
John Hillerman (TV s Magnum, P.I.)
Kene Holliday (TV s Matlock)
Kurtwood Smith (TV s That 70s Show)
Ted Shackelford (TV s Knots Landing)
Roscoe Lee Browne (Logan s Run)
Bea Arthur (TV s The Golden Girls)
Joe Mantegna (TV s Criminal Minds)
George Wendt (TV s Cheers)
Gregory Sierra (TV s Barney Miller)
Barbara Rhoades (The Goodbye Girl)
Art LaFleur (Field of Dreams)
Robert Costanzo (Total Recall)
Earl Boen (Terminator 2: Judgment Day)
James Hong (Blade Runner)
James Saito (Life of Pi)