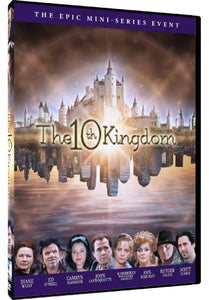 Two Worlds Come Together In One Fantastic Adventure!
A Magical Epic Adventure The Whole Family Will Enjoy!
Trust me...when you join us in The 10th Kingdom, you ll find fantasy and action and romance and adventure. It s a spectacular place to come and play. Camryn Manheim
Join an all-star cast as they find fantasy, action, romance and adventure in the Emmy winning® The 10th Kingdom! Beyond the mortal world lies Nine Kingdoms where the fantastic land of fairy tales and magic are brought to life and reinvented. The themes and ideas of folklore and mythology perform fully as the classic characters enter a vortex at the edge of the mortal world which leads them to The 10th Kingdom...Central Park!
This ten part mini-series tells the tale of Prince Wendell (Daniel Lapaine) and the evil queen (Dianne Wiest) who has doomed him to spend the rest of his life as a dog. In order to recapture the throne Prince Wendell travels through the portal to the mythical kingdom of Manhattan and finds two ordinary mortals Virginia (Kimberly Williams-Paisley) and Tony (John Larroquette). Together they battle the evils of the parallel universe, and defend themselves from vile trolls, goblins and every fairy tale character imaginable! Stunning visual effects and a stellar cast create an epic adventure that will enchant audiences of all ages!
An all-star cast featuring a wealth of Emmy®, Oscar®, and Golden Globe®-wining and nominated talent including : John Larroquette (Boston Legal, The Practice), Kimberly Williams-Paisley (Nashville, Father of the Bride), Scott Cohen (Love and Other Drugs, Jacob s Ladder), Ann-Margret (Bye Bye Birdie, Tommy), Rutger Hauer (Batman Begins, Sin City), Daniel Lapaine (Double Jeopardy), Camryn Manheim (The Practice), Ed O Neil (Modern Family, Married with Children) and Dianne Wiest (Edward Scissorhands, Parenthood)