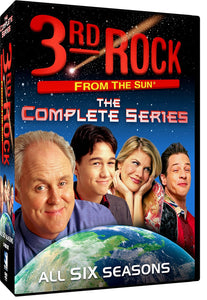 Prepare To Blast Off Into The Cosmos Of Comedy!
Burst into surging waves of out-of-this-word comedy with all 6 seasons of the award-winning Sci-Fi Comedy - 3rd Rock From The Sun! Ever since the Solomon family began their mission to study the mysterious inhabitants of Earth, their awkward and hilarious moments captured the hearts of fans and critics alike. After 139 episodes and 6 seasons. this 8-time Emmy© Award winning sitcom became one of the funniest sitcoms to hit TV air waves!
Join the high commander, Dick Solomon (John Lithgow), Doctor Albright (Jane Curtin) decorated military officer, Sally (Kristen Johnston), seasoned intelligence specialist, Tommy (Joseph Gordon-Levitt) and Harry (French Stewart), the extra seat, for hours of far-out comedy!
Out-Of-This-World Bonus Features Include: Candid Interviews, Best Of Moments, Blooper Reels, Season Highlights, Audio Commentaries, Episode Previews, The Alternate FINAL EPISODE Ending and Much Much More!
Note on Boxed Sets: During shipping, discs in boxed sets occasionally become dislodged without damage. Please examine and play these discs. If you are not completely satisfied, we'll refund or replace your purchase.