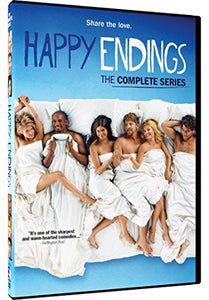 Share the love.
Take six twentysomething Chicago friends, add cocktails and hormones, shake and you've got Happy Endings, the hilarious comedy that asks: "When a couple splits, who gets to keep the friends?"

Dave (Zachary Knighton, TV's Flashforward) finds fulfillment manning a food truck after losing his hot fiancé, Alex (Elisha Cuthbert, TV's 24), at the altar. Alex's type-A sister, Jane (Eliza Coupe, TV's Future Man), is almost happily married to horn-dog Brad (Damon Wayans Jr., TV's New Girl). Dave's roommate, Max (Adam Pally, TV's The Mindy Project), is a gay, sports-loving slob, and Penny (Casey Wilson, TV's SNL) is on the prowl for a good man. . .or men.

The laughs are nonstop as they do what tightly-knit friends do best: hang out, have fun, debate the meaning of life, hook up, break up, and do it all over again!
Popular guest stars appeared throughout the 3-season, 57 episode run on ABC including: Nick Zano, Megan Mullally, Rob Corddry, James Wolk, Mary Elizabeth Ellis, Christopher McDonald, Mark-Paul Gosselaar, Paul Scheer, T.J. Miller, Rob Riggle, Andy Richter, Max Greenfield, Colin Hanks and more!

"Blending comedic elements of Friends, Arrested Development, and 30 Rock, it manages to serve up something new and refreshing by being both consumed by and annoyed with the frenetic world we live in. It's biting, but easy to swallow – social commentary at its best" - Rolling Stone

"It's one of the sharpest and warm-hearted comedies on the air, and I enjoy it a lot more than Modern Family." - Huffington Post