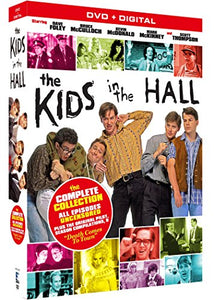 These Canadian-bred comic geniuses stretched sketch comedy to its ultimate limits with hilariously off-the-wall results with critical and fan acclaim. From the infamous Chicken Lady and Cabbage Head to Buddy Cole and the Headcrusher, the pioneering, edgy and ever-charming comedians created the most unhinged, unprecedented and unpredictable acclaimed cult series. No subject is too sacred; no corner of the human experience is too strange or too scary to hide from the harsh but blisteringly funny comments The Kids have to make on them.

This complete collection will include all 100+ episodes from the show s five-season run in addition to the reunion series Death Comes to Town with a host of bonus features including interviews, commentaries, archival footage, slideshows and more!

Also includes the 2010 Canadian mini-series, The Kids in the Hall: Death Comes to Town!