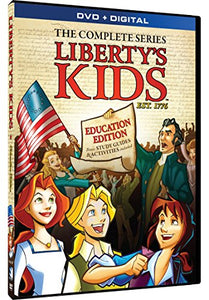 Education Edition
Bonus Study Guides and Activities INCLUDED
Liberty Rings!

The Complete Emmy® and Humanitas® Award-Nominated Series
Travel back in time to witness history in the making with Benjamin Franklin s teenage reporters as they confront the real and physical dangers of the American Revolution. Trapped in opposite sides of the war - James, an American colonist, and Sarah, a young English reporter - are forced to choose between friendship and allegiance to their countries. All while they try to look after mischievous Henri, a French boy whose comical escapades constantly lead to trouble. Journey through history and discover the high points of the American Revolution through this fun and animated educational adventure!

Featuring the voice of esteemed news anchor Walter Cronkite as Benjamin Franklin and including guest voices of award-winning film legends such as Annette Bening, Dustin Hoffman, Michael Douglas, Arnold Schwarzenegger, Sylvester Stallone, Whoopi Goldberg, Billy Crystal, Ben Stiller and Liam Neeson.

Enjoy this special edition featuring a study guide and activities for kids to follow along with the series for a fun, learning adventure!
Episodes:
THE BOSTON TEA PARTY
THE INTOLERABLE ACTS
UNITED WE STAND
LIBERTY OR DEATH!
MIDNIGHT RIDE
THE SHOT HEARD ROUND THE WORLD
GREEN MOUNTAIN BOYS
THE SECOND CONTINENTAL CONGRESS
BUNKER HILL
POSTMASTER GENERAL FRANKLIN
WASHINGTON TAKES COMMAND
COMMON SENSE
THE FIRST FOURTH OF JULY
NEW YORK, NEW YORK
THE TURTLE
ONE LIFE TO LOSE
CAPTAIN MOLLY
AMERICAN CRISIS
ACROSS THE DELAWARE
AN AMERICAN IN PARIS
SYBIL LUDINGTON
LAFAYETTE ARRIVES
THE HESSIANS ARE COMING
VALLEY FORGE
ALLIES AT LAST
HONOR AND COMPROMISE
THE NEW FRONTIER 1779
NOT YET BEGUN TO FIGHT
THE GREAT GALVEZ
IN PRAISE OF BEN
BOSTONIANS
BENEDICT ARNOLD
CONFLICT IN THE SOUTH
DEBORAH SAMSON SOLDIER OF THE REVOLUTION
JAMES ARMISTEAD
YORKTOWN
BORN FREE AND EQUAL 1781 1783
THE MAN WHO WOULDN T BE KING
GOING HOME 1786
WE THE PEOPLE