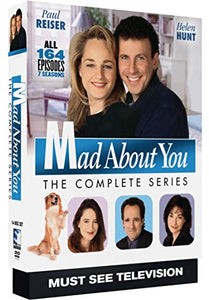 Jump into the Final Frontier along with Paul and Jamie!
Honored with several awards including 10 Emmy®s, Mad About You is one of TV's most beloved and popular comedies.
Mad About You explores the romantic ups and downs of an endearingly neurotic couple, Paul and Jamie Buchman, as they cope with marriage, mood swings, love and life. You'll experience the ultimate in laughs and entertainment with shows featuring celebrity guests Lisa Kudrow, Carl Reiner, Sid Caesar, Estelle Getty, Bruce Willis, Hank Azaria, Cyndi Lauper and more. This is truly the ultimate collection filled with bonus features for everyone who is mad about Mad About You!
Starring: Helen Hunt, Paul Reiser, Tommy Hinkely, Anne Ramsay, Richard Kind and Leila Kenzle
Guest Stars: Mel Brooks, Hank Azaria, Nathan Lane, Carol Burnett, Cyndi Lauper, Ellen DeGeneres, Jerry Seinfeld, Lisa Kudrow and more!
A Golden Globe® and Emmy® winning series (4 Golden Globes and 12 Emmys).

The show had crossover episodes with a number of other popular NBC TV shows that were set in New York City such as Friends, Seinfeld, and The Dick Van Dyke Show.

First time the Complete Series is being released on DVD!

Set includes a host of bonus features including commentaries, featurettes, a blooper reel and more.