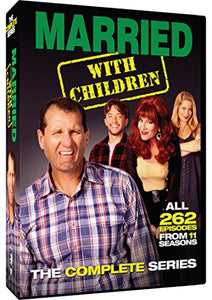 It's a Bundy-palooza!
Spend some quality time with the family as you join hard-working husband Al (Ed O'Neill), housework-hating wife Peg (Katey Sagal), sexy daughter Kelly (Christina Applegate) and hopelessly son Bud (David Faustino) to celebrate the landmark TV sitcom Married With Children. For 11 seasons it was brilliantly tasteless, daringly raunchy and a devilishly clever comedy that put the fun in dysfunctional. Now you can own this great collection that's guaranteed to give you hours and hours of domestic bliss.
Starring: Ed O'Neill (TV's Modern Family), Katey Sagal (TV's Sons of Anarchy), Ted McGinley (Revenge of the Nerds), Amanda Bearse (Fright Night), David Garrison (TV s It s Your Move), Christina Applegate (Anchorman) and David Faustino (The Legend of Korra)
Includes The Original Theme Song Love and Marriage by Frank Sinatra!
Guest Stars:
Garrett Morris (TV's 2 Broke Girls)
Jerry Hall (Batman)
Estelle Harris (Seinfeld)
Giovanni Ribisi (Avatar)
Dan Gauthier (TV s Tour of Duty)
Richard Paul (TV s Carter Country)
Bill Erwin (Home Alone)
David Leisure (TV s Empty Nest)
King Kong Bundy (WWE Wrestler)
The Del Rubio Triplets (TV s Christmas at Pee Wee s Playhouse)
Teri Weigel (Predator 2)
Teresa Ganzel (Transylvania 6-5000)
Pauly Shore (Son in Law)
Andrea Parker (TV's The Pretender)
David L. Lander (TV's Laverne & Shirley)
Stephen Dorff (Blade)
Morgan Brittany (TV's Dallas)
Luann Lee (Playboy Playmate)
Joe Flaherty (TV's SCTV)
Traci Lords (Zack and Miri Make a Porno)
Milla Jovovich (Resident Evil)
Brandi Brandt (Playboy Playmate)
Thomas Ian Nicholas (American Pie)
Sam Kinison (Back To School)
Eva LaRue (TV's CSI: Miami)
Adolfo Quinones (Tango & Cash)
Tiffani Thiessen (TV's Saved By The Bell)
Roy Firestone (ESPN)
Pamela Anderson (TV's Baywatch)
Dr. Joyce Brothers (Analyze That)
Ian Ziering (TV's Beverly Hills, 90210)
Dan Castellaneta (TV's The Simpsons)
Sam McMurray (Raising Arizona)
Tina Louise (TV's Gilligan's Island)
Tia Carrere (True Lies)
Debbie Dunning (TV's Home Improvement)
Phil Fondacaro (Return of the Jedi)
Debbie Lee Carrington (Total Recall)
Tony Cox (Bad Santa)
Felix Silla (Return of the Jedi)
Rhonda Shear (Spaceballs)
Sherrie Rose (Unlawful Entry)
Beth Broderick (TV's Sabrina, the Teenage Witch)
Charlie Brill (TV's Silk Stalkings)
Edd Hall (TV's Tonight Show)
Cheech Marin (TV's Nash Bridges)
Brian George (Horrible Bosses)
B.B. King (Legendary Blues Man)
Bubba Smith (Police Academy)
Joseph Bologna (Big Daddy)
Matt LeBlanc (TV's Friends)< br>AND MANY MORE!