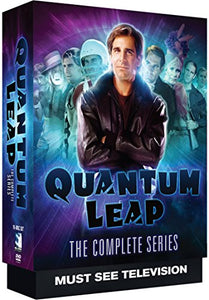 Sam Beckett has a date with destiny. Where will he end up next?
Get ready for an adventure of many lifetimes with the ground-breaking sci-fi classic, Quantum Leap. With the complete series box set, you can now leap through all 95 thrilling episodes over 5 seasons of this Primetime Emmy® Award-winning series back-to-back and uninterrupted!
Join Dr. Sam Beckett (Scott Bakula), a time traveler lost in time, who temporarily leaps into the bodies and lives of other people to put right what once went wrong. Accompanied by Al (Dean Stockwell), a wise-cracking holograph that only Sam can see and hear, Sam twists the hands of fate with each heart-pounding, action-packed adventure in the hopes that he can someday complete the mission that will take him home.
Notable Cast/Crew: Includes hundreds of celebrity guest stars including: Jennifer Anniston, Neil Patrick Harris, Teri Hatcher, Joseph Gordon-Levitt, Michael Madsen, Jason Priestley, Bob Saget, Brooke Shields, and Dr. Ruth Westmeimer.