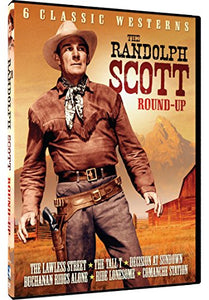 Contents:
A Lawless Street
(1955) - 78 min.
Randolph Scott, Angela Lansbury, Jean Parker, Warner Anderson, Wallace Ford
Randolph Scott stars as Marshal Coleen Wave, a lawman who moves from town to town in the Colorado Territory, ridding each of its outlaws. His dedication to his gob causes his wife, played by Angela Lansbury (TV's Murder She Wrote), to leave him. She will not come back to him until he has hung up his guns for good. But he is determined to clean up one last town, run by bandits, who don't want to see the territory become a state.
The Tall T
(1957) - 78 min.
Randolph Scott, Richard Boone, Maureen O Sullivan, Arthur Hunnicutt, Skip Homeier
After losing his horse in an ill-timed wager, Arizona rancher Pat Brennan (Randolph Scott) joins Willard Mims and his new wife, Doretta (Maureen O'Sullivan), as he hitches a ride on a passing stagecoach. Things turn ugly when the stagecoach is hijacked by three thieves whose leader, Usher (Richard Boone), thinks nothing of killing the driver. To spare his own life, the cowardly Willard lets Usher know that, as the daughter of a wealthy copper miner, Doretta could bring a huge ransom. Before leaving to collect the cash, Usher kills Willard. But after Brennan takes out his two henchmen, to protect Doretta, he's forced into a deadly showdown once Usher returns.
Decision At Sundown
(1957) - 78 min.
Randolph Scott, John Carroll, Karen Steele, Valerie French, Noah Beery Jr., John Archer
Bart Allison arrives in Sundown planning to kill Tate Kimbrough. Three years earlier he believed Kimbrough was responsible for the death of his wife. He finds Kimbrough and warns him he is going to kill him but gets pinned down in the livery stable with his friend Sam by Kimbrough's stooge Sheriff and his men. When Sam is shot in the back after being told he could leave safely, some of the townsmen change sides and disarm the Sheriff's men forcing him to face Allison alone. Taking care of the Sheriff, Allison injures his gun hand and must now face Kimbrough left-handed.
Buchanan Rides Alone
(1958) - 80 min.
Randolph Scott, Craig Stevens, Barry Kelley, Tol Avery, Peter Whitney, Manuel Rojas
This taut western with non-stop plot twists is about a taciturn character Randolph Scott who becomes involved in the goings-on of a frontier border town. Scott takes on the corrupt family in charge of the town in a general war of nerves which leads to an incredible shoot-'em-up climax.
Ride Lonesome
(1959) - 73 min.
Randolph Scott, Karen Steele, Pernell Roberts, James Best, Lee Van Cleef, James Coburn
Though ex-sheriff-turned-bounty-hunter Ben Brigade (Randolph Scott) captures the young desperado Billy John, it's his older brother, Frank, who's his real target. Joined by Sam Boone (Pernell Roberts), an outlaw looking to go straight, and Carrie Lane (Karen Steele), a widow whose stationmaster husband was killed in an Apache raid, Ben uses the threat of Billy's hanging as bait. And when Frank is lured into coming to his little brother's rescue, a showdown that leaves the outlaw dead and Sam and Carrie collecting the bounty on Billy, Ben is left to ride away alone.
Comanche Station
(1960) - 74 min.
Randolph Scott, Nancy Gates, Claude Akins, Skip Homeier, Richard Rust, Rand Brooks
Loner Cody trades with the Comanches to get a white girl released. He is joined on his way back to the girl's husband by an outlaw and his sidekicks. It turns out there is a large reward for the return of the girl, and with the Indians on the warpath and the outlaw being an old enemy of Cody's, things are set for several showdowns.