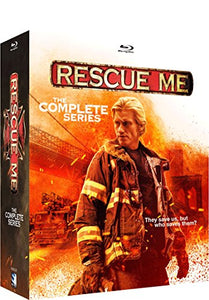 They save us, but who saves them?
For the first time ever, all seven seasons ofRescue Meare available in one complete Blu-ray box set.
From series creators Denis Leary and Peter Tolan, the highly acclaimedRescue Megalvanized audiences with its uncompromising portrayal of the New York City firefighters of 62 Truck, whose duty to save lives puts their own in constant turmoil - on the front lines, in the firehouse, and at home.
Leary is electrifying in his role as Tommy Gavin, a deeply driven first responder with a combustible personality and personal demons to match. Through seven groundbreaking seasons, we follow his gripping story, along with those of his fellow crew. Provocative, profane, dramatic, humorous, and unflinchingly honest, it is an unforgettable journey of courage, conflict and ultimate salvation.
"This unflinching, darkly funny tale of fires and firefighters is one of the most underrated shows in recent years. Its subject matter is undeniably fresh, fascinating and full of danger: the problems of readjusting to everyday life as a New York firefighter after the devastation of 9/11."  – Sarah Hughes, The Guardian
"...absolutely brilliant.... the best show on television." – David Kronke, LA Daily News
Starring: Denis Leary (The Amazing Spider-Man), Andrea Roth (Netflix's 13 Reasons Why), Daniel Sunjata (ABC's Notorious), Callie Thorne (USA's Necessary Roughness), Steven Pasquale (CBS's Doubt)