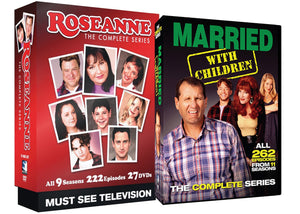 All 9 Seasons! All 222 Episodes! All The Conner Clan Comedy In 1 Hilarious Collection!
One Of The Best Shows Ever Seen On The Tube, And We Probably Will Never See Its Like Again. Liz Smith, New York Post
Celebrate the hysterical banter, honest attitude and flat-out hilarity that broke all the rules and changed sitcom history forever! Praised by fans and critics for its realistic portrayal of the average American family, Roseanne and Dan s unconventional parenting methods entertained millions as they navigated through the ups and downs of blue-collar life with their children Becky, Darlene, D.J and Jerry. Wildly popular for its quick-witted comedy Roseanne also tackled controversial issues, this blend of life and laughs made the series a landmark in television history. Experience all 9 ground-breaking seasons of the Emmy© Award Winning Conner clan as they generate oodles of laugher and side-splitting comedy in this laugh-packed 27 disc collection!
This Complete Series includes: All 9 Seasons, All 222 Episodes, Interviews With Cast and Crew, Blooper and Highlight Reels, Video Commentary, Fans Top Questions, a Candid Interview with Roseanne and much much more!
Starring: Emmy® Award Winner Roseanne, Golden Globe® Winner John Goodman, Sara Gilbert, three-time Emmy® Award Winner Laurie Metcalf, Michael Fishman, Alicia Goranson and Sarah Chalke.
Guest Starring: George Clooney, Tom Arnold, Bob Hope, Wayne Newton, David Crosby, Neil Patrick Harris, Loretta Lynn, Morgan Fairchild, Bill Maher, Joseph Gordon-Levitt, Joan Collins, Chris Farley, Michael O Keefe, Vicki Lawrence, Florence Henderson, Fabio, Sharon Stone and Ellen DeGenere
Spend some quality time with the family as you join hard-working husband Al (Ed O'Neill), housework-hating wife Peg (Katey Sagal), sexy daughter Kelly (Christina Applegate) and hopelessly horny son Bud (David Faustino) to celebrate the landmark TV sitcom Married With Children. For 11 seasons it was brilliantly tasteless, daringly raunchy and a devilishly clever comedy that put the fun in dysfunctional. Now you can own this great collection that's guaranteed to give you hours and hours of domestic bliss.
Starring: Ed O'Neill (TV's Modern Family), Katey Sagal (TV's Sons of Anarchy), Ted McGinley (Revenge of the Nerds), Amanda Bearse (Fright Night), David Garrison (TV s It s Your Move), Christina Applegate (Anchorman) and David Faustino (The Legend of Korra)
Includes The Original Theme Song Love and Marriage by Frank Sinatra!
Guest Stars:
Garrett Morris (TV's 2 Broke Girls)
Jerry Hall (Batman)
Estelle Harris (Seinfeld)
Giovanni Ribisi (Avatar)
Dan Gauthier (TV s Tour of Duty)
Richard Paul (TV s Carter Country)
Bill Erwin (Home Alone)
David Leisure (TV s Empty Nest)
King Kong Bundy (WWE Wrestler)
The Del Rubio Triplets (TV s Christmas at Pee Wee s Playhouse)
Teri Weigel (Predator 2)
Teresa Ganzel (Transylvania 6-5000)
Pauly Shore (Son in Law)
Andrea Parker (TV's The Pretender)
David L. Lander (TV's Laverne & Shirley)
Stephen Dorff (Blade)
Morgan Brittany (TV's Dallas)
Luann Lee (Playboy Playmate)
Joe Flaherty (TV's SCTV)
Traci Lords (Zack and Miri Make a Porno)
Milla Jovovich (Resident Evil)
Brandi Brandt (Playboy Playmate)
Thomas Ian Nicholas (American Pie)
Sam Kinison (Back To School)
Eva LaRue (TV's CSI: Miami)
Adolfo Quinones (Tango & Cash)
Tiffani Thiessen (TV's Saved By The Bell)
Roy Firestone (ESPN)
Pamela Anderson (TV's Baywatch)
Dr. Joyce Brothers (Analyze That)
Ian Ziering (TV's Beverly Hills, 90210)
Dan Castellaneta (TV's The Simpsons)
Sam McMurray (Raising Arizona)
Tina Louise (TV's Gilligan's Island)
Tia Carrere (True Lies)
Debbie Dunning (TV's Home Improvement)
Phil Fondacaro (Return of the Jedi)
Debbie Lee Carrington (Total Recall)
Tony Cox (Bad Santa)
Felix Silla (Return of the Jedi)
Rhonda Shear (Spaceballs)
Sherrie Rose (Unlawful Entry)
Beth Broderick (TV's Sabrina, the Teenage Witch)
Charlie Brill (TV's Silk Stalkings)
Edd Hall (TV's Tonight Show)
Cheech Marin (TV's Nash Bridges)
Brian George (Horrible Bosses)
B.B. King (Legendary Blues Man)
Bubba Smith (Police Academy)
Joseph Bologna (Big Daddy)
Matt LeBlanc (TV's Friends)
Joey Lauren Adams (Dazed and Confused)
John Asher (TV's Weird Science)
Jerry Mathers (TV's Leave It To Beaver)
Alan Oppenheimer (TV's He-Man and the Masters of the Universe)
John Byner (The Black Cauldron)
Ava Fabian (Dragnet)
Armin Shimerman (TV's Star Trek: Deep Space Nine)
Jennifer Blanc (The Crow)
Bobbie Phillips (Showgirls)
Patrick Cranshaw (Best In Show)
William Sanderson (TV's Newhart)
Tim Kazurinsky (TV's SNL)