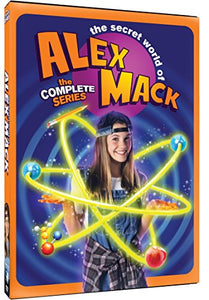 Just Your Average Teen...With SUPER POWERS!

Alex is a normal thirteen-year-old, dreading her first day of junior high school and trying to deal with the typical adolescent concerns, like just feeling ordinary. A toxic spill changes all that. On her way home from school, a chemical accident suddenly leaves her biologically altered.

Alex now has the ability to liquefy herself, turn into a human magnet, move objects and create force fields. Her terror turns to glee as she learns to control these powers and use them to change her life, which is now anything but ordinary. Meanwhile, the Hidden Valley chemical plant doesn t quite share Alex s new found sense of excitement and the search is on to find her before news of the accident reaches police or the press.

With agents of the chemical plant in hot pursuit and Alex and her friends having mischievous super-power fun, the once-quiet town of Hidden Valley will never be quite the same again.

FIRST TIME AVAILABLE IN ITS ENTIRETY! This complete series collection includes all 78 episodes from the show s four-season run.