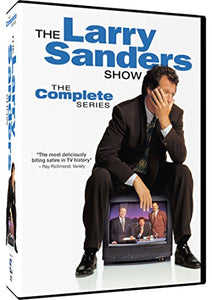 HEY NOW! All 88 Episodes on 9-Discs!
Live on tape, from Hollywood, it's The Larry Sanders Show... the greatest TV show about a TV show ever! This series raised the bar with its brutally smart comedy and innovative use of both video and film to distinguish on-air events from the real world backstage.
Garry Shandling stars as Larry Sanders, a neurotic late-night talk show host flanked by his foul-mouthed producer Artie (Rip Torn), and his bumbling sidekick Hank (Jeffrey Tambor), who are all train wrecks and ego off-air, but late-night's finest when the lights are on. With an amazing supporting cast and packed with celebrity guest stars, the series was written and produced by Shandling, Peter Tolan (Rescue Me) and Judd Apatow (Knocked Up), where every episode is full of hilarious laughs, so start watching now, and No Flipping.
Starring: Garry Shandling, Jeffrey Tambor, Rip Torn, Janeane Garofalo, Penny Johnson, Wallace Langham, Scott Thompson, Mary Lynn Rajskub
Guest Stars Include: David Spade, William Shatner, Carol Burnett, Jon Lovitz, Dana Carvey, Michael Richards, Robin Williams, George Forman, Peter Falk, Richard Simmons, Bob Saget, Kathy Ireland, Helen Hunt, Alec Baldwin, Phil Hartman, David Letterman, Hugh Hefner, Roseanne Barr, Jay Leno, George Segal, Adam Sandler, Alex Trebek, John Ritter, Jason Alexander, French Stewart, Danny DeVito, Jimmy Walker, Rita Moreno, Bob Odenkirk, George Wendt, Shadoe Stevens, Sharon Stone, Julianne Phillips, Lisa Edelstein, David Paymer, Dave Thomas, Bobcat Goldthwait, Regis Philbin, Rob Reiner, Richard Belzer, Pauly Shore and Many More!