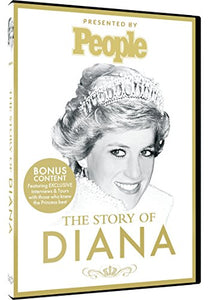 SHE WAS BELOVED BY MILLIONS, BUT PLAGUED BY HIDDEN TURMOIL.
PEOPLE presents The Story of Diana, a four-hour television event, featuring the most comprehensive interviews ever conducted on the woman known as the People's Princess: in-depth conversations with those who knew her best, as well as the world's leading Diana experts. These interviews are woven together with PEOPLE's unparalleled reporting, as well as captivating archival footage of the Princess of Wales. The documentary will not only explore the remarkable chapters of Diana's life, but will also delve deeply into the ways in which her story rmains relevant today. This television event will remind the world why they fell in love with Diana in the first place - and will introduce her to a whole new generation.
BONUS CONTENT: Featuring EXCLUSIVE interviews & tours with those who knew the Princess best.