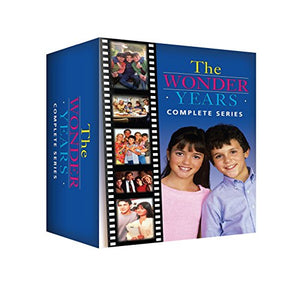 THE COMPLETE SERIES BOX SET OF THE WONDER YEARS!

"Grade A+"—People Magazine
For six seasons,
THE WONDER YEARS
captured the angst of growing up in suburban middle-class America in the late '60s, as seen through the life and times of Kevin Arnold (Fred Savage). From his first kiss with Winnie Cooper (Danica McKellar) to his friendship with Paul Pfeiffer (Josh Saviano) and the ups and downs of the Arnold family, fans shared in laughter, love, and loss, but above all, wonder. Each episode of this award-winning show weaves cultural events and music into the storylines. Through it all, Kevin gets by with a little help from his friends Winnie and Paul.
WHY BUY?
Complete Set: This 22-DVD set contains all 115 episodes from the six seasons of this landmark series.
Booklet: Also get complete show notes with episode synopses, cast member reflections, "Current Events," and more.
Music: Part of the appeal of this award-winning searies was the soundtrack! Hear over 300 classic period songs as they were featured in the original broadcasts, including artists such as Jimi Hendrix, Bob Dylan, Joni Mitchell, The Byrds, Simon & Garfunkel, Aretha Franklin, James Taylor, and of course, Joe Cocker's unforgettable theme song.
Bonus Content: Plus nearly 12 hours of exclusive bonus material, including:

Highlights from the first cast reunion in 16 years
Roundtable discussions with Danica McKellar, Fred Savage, and Josh Saviano
6 newly produced featurettes
Farewell set tour
One-hour ABC broadcast of the series finale
Exclusive interviews with the show's creators and cast including Fred Savage, Danica McKellar, Josh Saviano, Alley Mills, Dan Lauria, Olivia d'Abo, Jason Hervey, and more!